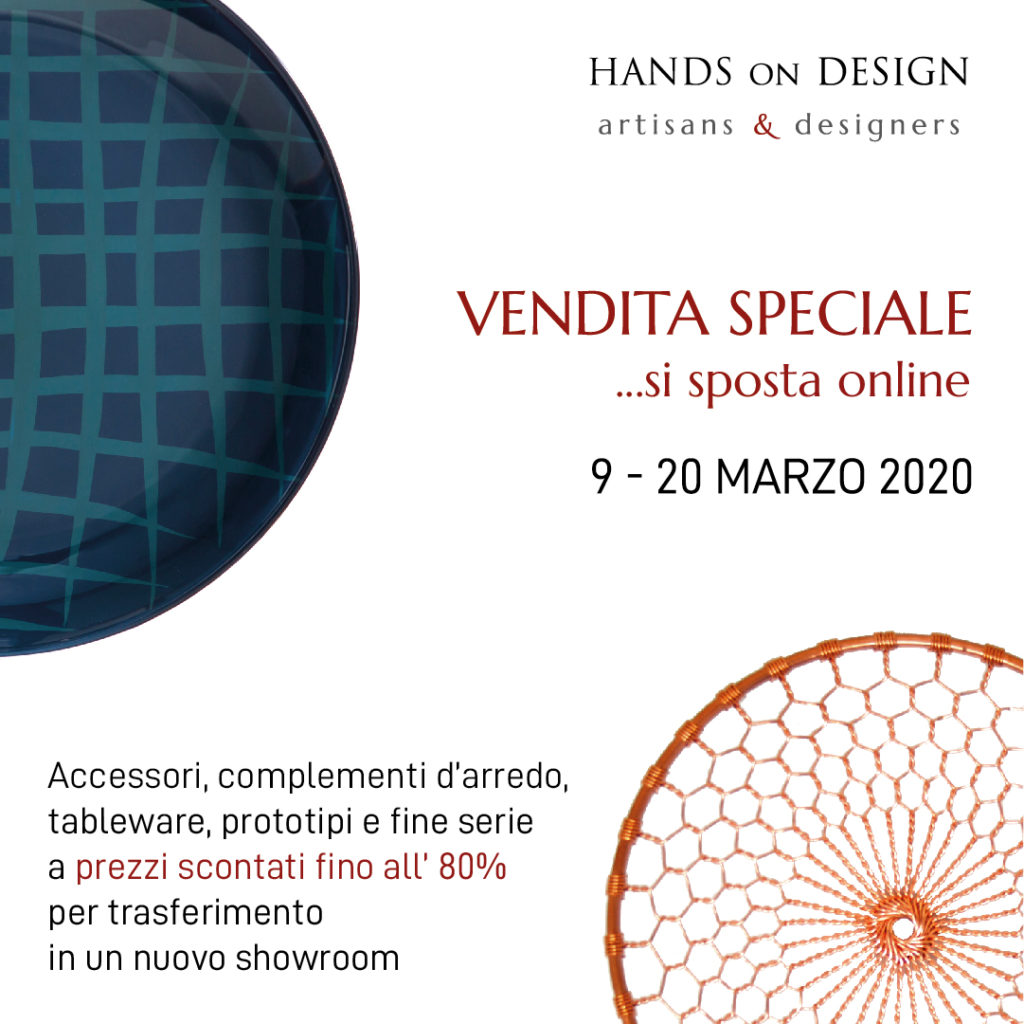 16 Mar

Vendita Speciale – Special Sale

Posted at 16:00h

in Uncategorized

Dal mese di Aprile lasceremo il nostro attuale negozio di Via G. Rossini, 3 per spostarci in un nuovo showroom (vi daremo presto maggiori informazioni). I traslochi, si sa, sono delle ottime occasioni per riorganizzare tutto quello che si è accumulato negli anni, ed è per questo che abbiamo deciso di rivedere il nostro catalogo e scontare per questa occasione una grande selezione di prodotti a prezzi molto interessanti! Vista la delicata situazione sanitaria che non solo l'Italia sta vivendo, abbiamo deciso di fare una Vendita Speciale online, per dare la possibilità a tutti di acquistare comodamente da casa! Cliccate sul link qui sotto per accedere alla lista dei prodotti scontati e, se siete interessati a qualcosa in particolare, comunicateci il nome dell'oggetto via mail o messaggio privato su Facebook o Instagram. Noi vi aggiorneremo il prima possibile con la disponibilità, vi comunicheremo i costi di spedizione e vi manderemo un link per il pagamento via PayPal.
---
From April we will leave our current shop in Via G. Rossini, 3 in Milan, to move to a new showroom (we will give you more information soon). Moves, you know, are the best opportunities to reorganize everything that we've collected over the years, so we've decided to review our catalog and offer a large selection of products at very interesting prices! Given the delicate health situation that not only Italy is experiencing, we decided to make a Special Sale online, to give everyone the opportunity to comfortably buy from home! Click on the link below to access the list of discounted products and, if you are interested in something in particular, tell us the name of the object via email or private message on Facebook or Instagram. We will update you as soon as possible with availability, we will communicate the shipping costs and send you a link for PayPal payment.