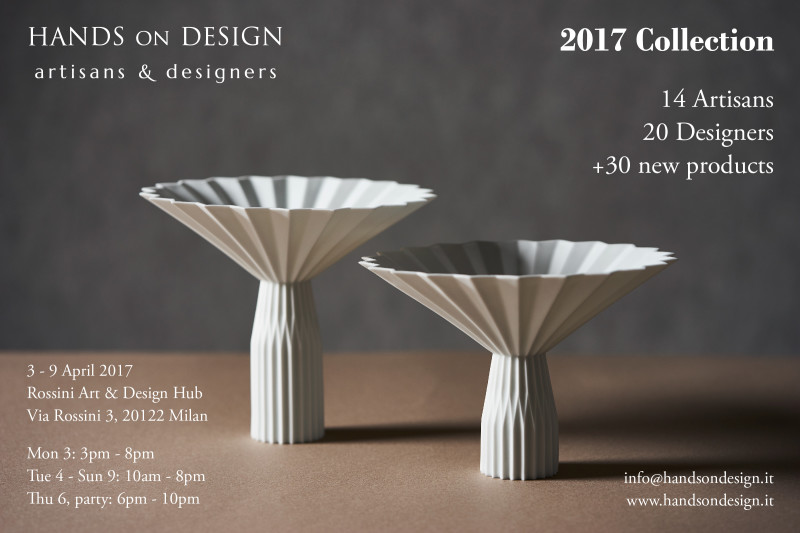 27 Mar

New collection 2017

Posted at 16:39h

in Uncategorized

Hands on Design ha il piacere di invitarvi a scoprire la nuova collezione 2017 durante il prossimo Fuorisalone.
Quest'anno, oltre agli artigiani e ai materiali già parte delle scorse collezioni, presenteremo le lame giapponesi di Banshu Hamono (Giulio Iacchetti e altri), il legno tornito di Lorenzo Franceschinis (Roberto Sironi e altri) e il luminoso alabastro volterrano di Andrea Luppichini (Setsu & Shinobu Ito).

Saremo lieti di incontrarvi presso il nostro showroom di Via Rossini 3 a Milano.

Lunedì 3: 15:00 – 20:00
Martedì 4 – Domenica 9: 10:00 – 20:00
Giovedì 6, party: 18:00 – 22:00

I protagonisti della collezione 2017:

Artigiani
224 Porcelain, Banshu Hamono, Ercole Moretti, Lorenzo Franceschinis, Kaikado, Andrea Luppichini, Maruyoshi Kosaka, Shuji Nakagawa, Risogama, Soffieria, Takirai Design, Natsuko Toyofuku, Tumar, Hiroaki Usui.

Designers
Massimo Barbierato, Buzzo-Lambertoni, Maddalena Casadei e Marialaura Rossiello, Térence Coton, Denis Guidone, Gum Design, Giulio Iacchetti, Setsu & Shinobu Ito, Kanz Architetti, Shinya Kobayashi, Kazuyo Komoda, Laudani-Romanelli, Eliana Lorena, Donata Paruccini, Sonia Pedrazzini, Francesco Sani, Shiina+Nardi Design, Roberto Sironi, Yoko Takirai e Pietro Pellitteri, Natsuko Toyofuku
---
Hands on Design is pleased to invite you to discover the new collection 2017 during next Fuorisalone.
This year, in addition to the artisans and materials already part of past collections, we will present the Japanese blades by Banshu Hamono (Giulio Iacchetti and others), the turned wood by Lorenzo Franceschinis (Roberto Sironi and others) and the bright alabaster from Volterra by Andrea Luppichini (Setsu & Shinobu Ito).
We look forward to seeing you in our showroom, Via Rossini 3 – Milan.
Monday 3: 3 p.m. to 8 p.m.
Tuesday 4 – Sunday 9: 10 a.m. to 8 p.m.
Thursday 6, party: 6 p.m to 10 p.m.
The protagonists of the 2017 collection:
Artisans 
224 Porcelain, Banshu Hamono, Ercole Moretti, Lorenzo Franceschinis, Kaikado, Andrea Luppichini, Maruyoshi Kosaka, Shuji Nakagawa, Risogama, Soffieria, Takirai Design, Natsuko Toyofuku, Tumar, Hiroaki Usui.
Designers
Massimo Barbierato, Buzzo-Lambertoni, Maddalena Casadei e Marialaura Rossiello, Térence Coton, Denis Guidone, Gum Design, Giulio Iacchetti, Setsu & Shinobu Ito, Kanz Architetti, Shinya Kobayashi, Kazuyo Komoda, Laudani-Romanelli, Eliana Lorena, Donata Paruccini, Sonia Pedrazzini, Francesco Sani, Shiina+Nardi Design, Roberto Sironi, Yoko Takirai e Pietro Pellitteri, Natsuko Toyofuku